Armin Küpper, a German musician, had the idea of playing the saxophone at the entrance of a gas pipeline. This idea may seem strange and yet, he plays with the echo of the pipe and it gives a superb symphony.
That's probably what the talent is all about !
It takes a certain genius to use an object for a completely different purpose than it was originally intended. This is what Armin Küpper from the small German town of Liedberg in North Rhine-Westphalia did.
Armin Küpper is a musician. He plays the saxophone. But he discovered a unique way to improve the sound of his instrument. The talented musician plays next to large gas pipes, which allows the sound of the saxophone to be hauntingly amplified by the natural echo produced by the gas pipe.
An unusual accompaniment.
That's the advantage of living in a town like Liedberg, he says, where there's an abundance of pipes positioned along the pipeline right-of-way waiting to be laid.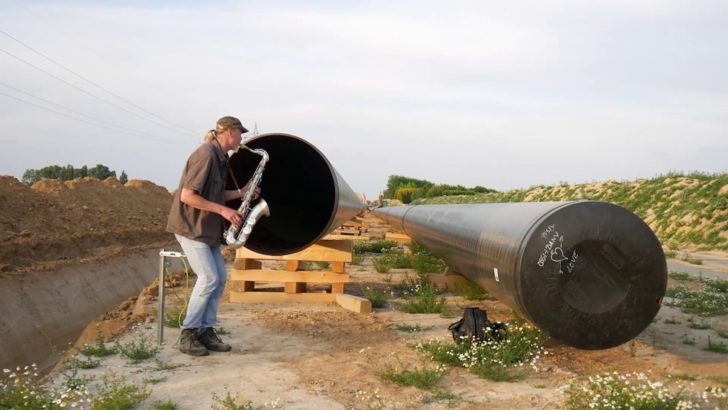 Once the workers have left the building site, Armin Küpper can enjoy his favourite hobby. "Sometimes I can't stop playing. What's nice is that when it's cool in the evening, I sit in the still warm pipe of the day's sunlight and enjoy the sunset playing the saxophone".
An artist in his own right.
We hope you too will enjoy the sounds of Armin Küpper's saxophone. As a bonus, we can't resist sharing another one of his many videos with you.
This time, it is with the guitar that the German musician treats our ears! And yes, Armin is a complete artist. He plays solo guitar, saxophone and didgeridoo and has received several awards for his creations. These brilliant recordings on the saxophone near a huge gas pipe have, unsurprisingly, been the subject of many online reviews recently. Creativity in all its splendour for our greatest pleasure !